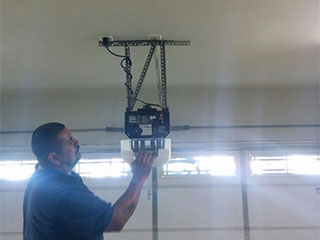 Your garage door opener goes through a lot in its lifetime. During a year, with a little help from the springs, it opens and shuts the door more than a thousand times! Just like other mechanical devices out there, it will eventually stop and will need replacing. This, however, won't happen without warning signs. Knowing when it's time to say goodbye to your opener can give you the opportunity to plan your installation ahead without your door jamming at the worst possible time.
Worn-Out Models Make Plenty of Noise
One of the first warning signs is the noise. The grumpy creaks of an old opener are distinguishable from miles away and signalize the near end of its functioning. You may have not even realized that your opener is noisy as it's been like that for years. Comparing it to your neighbor's garage door will help in determining whether it's time to go.
Old Models put your Home at Danger
Next, you might consider replacing your opener if it lacks advanced security features. Old models have been notorious for their easily hacked rolling codes, which provided burglars with a popular entryway. New models feature rolling codes that change every time your door does a cycle. Knowing your home is properly secured is imperative and you might consider an upgrade if you own an older model.
New Openers Pack a Battery Backup Feature
Also, you might want to install a new opener if your current one hasn't got the battery backup feature. This is an extremely useful functionality that lets you operate your door even during a power outage. Outdated models will have some sort of a manual opening system, but these can be difficult to maneuver.
Lack of Keypad Operation
Finally, long gone are the days of opening garage doors with your keys only. If you are tired of this manual operation and an inability to give access to other people, you might want to install a new opener that features a keypad mounted on the outside wall, with a simple, customized code needed for entry.
If you have a garage door opener that fits any of the above descriptions, it might be time for a new one. Our company can help with an installation of many new models. Give us a call if interested.